Hey Folks!
Couple months back my favorite serial audio drama podcast (
Wormwood
) put out the call for episodic show art. By the way
Wormwood
is an incredible Horror/Mystery serial podcast, which is funny, and dark with a huge cast of interesting characters voiced by a small but incredibly talented troupe.
If you are a fan of Steve Niles, or Twin Peaks you will love this show.
Anyways... I decided that I'd like to contribute my depiction of the lovely sarcastic Sparrow, the assistant to Dr. Xander Crowe and my favorite character.
I thought I would include the before show number and title.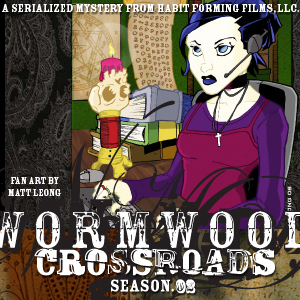 After Show number and title.
So if your into the theatre of the mind check out:
Wormwood
. You won't regret it.